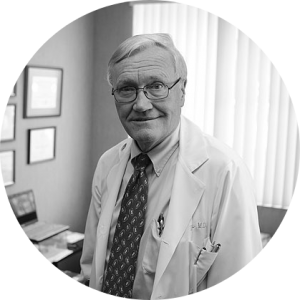 Neurologist, Santa Barbara Center
David C. Agnew, M.D. is one of the pioneers in pain medicine in the United States. Dr. Agnew is a cum laude graduate of Mercersburg Academy and Phi Beta Kappa graduate of Denison University. He completed his undergraduate medical studies at the University of Pittsburgh School of Medicine, interned at the Guthrie Clinic in Pennsylvania which was followed by a neurologic residency at the Barrow Neurologic Institute in Arizona. After completing one of the first fellowships in intractable pain studies ever given at the Institute of Neurology, Queen Square, London, England, he began his professional career as the Director of Neurology at the City of Hope National Medical Center. Working with an interdisciplinary team consisting of neurosurgeons, psychiatrists, anesthesiologists, pharmacologists and physical medicine specialists, as well as neurophysiological researchers, Dr. Agnew and his colleagues developed the basic treatment models confirmed by published clinical studies on which most chronic pain treatment programs in this country are based.
He is a founding member of the American Academy of Pain Medicine and a member of the International Association for the Study of Pain, the Western U.S.A. Pain Society, the American Pain Society and the American Academy of Pain Medicine on whose board of directors he has served. He was appointed to the faculty of The USC Keck School of Medicine, Department of Neurology, in 1976 and has served as President and a member of the board of directors of the Los Angeles Society of Neurology and Psychiatry. In 1986 he was invited to head the Pain Department at the St. Francis Medical Center in Santa Barbara.
Dr. Agnew is the author of twenty-four publications in neurology and pain medicine. He was elected as a Fellow of the Academy of Pain Medicine in 1995, one of twelve so honored. He is a Diplomate of the American Board of Clinical Neurology, has served as a Director of the Board of the California Academy of Pain Medicine since its inception and recently has been honored by investiture to the Society of St. John (Order of Hospitalier Knights) for his long-standing work in the Episcopal Church. He is a senior consultant to the Society of Industry Leaders in neurology and pain medicine of Vista Research and was recently elected to Sigma Xi, the honorary society for scientific research. In addition, has worked as a co-founder of Phoresus Pharmaceuticals, Inc. Dr. Agnew serves as a consultant for health and medical product design and development for several medical device companies and has recently assumed responsibilities as president of Advanced Integrated Neurosciences, P.C., a California affiliate of TheraMind Services, Inc.
TheraMind Center of Santa Barbara
351 Hitchcock Way, Ste. B170
Phone: (805) 845-4455 || Fax: (805) 845-9820